History of Askea
Askea Community Childcare Centre, set up in 1986 as Askea Community Playgroup to meet the needs of children in the rapidly expanding town of Carlow, had its' humble beginning in two rooms in an old storehouse.  At that time the playgroup opened for three mornings per week and supervision was provided by parents on a voluntary basis.
As demand for places increased the service was extended to five mornings and later to two playgroups running five mornings and five afternoons a week with four staff.
Following the introduction of the Childcare Act, 1991 and the availability of capital funding, plans were drawn up and an application was forwarded to the Department of Justice, Equality and Law Reform for funding to construct a new building. The original building was further enhanced in 2011 with the opening of a substantial extension and a new play area.
We now have our very own purpose-built Askea Community Childcare Centre which has the capacity to provide care for children aged 1 to 12/13 years and employs 32 staff.
Company Ethos
Our aim is to provide a high-quality childcare service which meets the needs of parents and children using our service. We encourage and nurture the self-worth of the children in our care in a safe, loving and stimulating environment.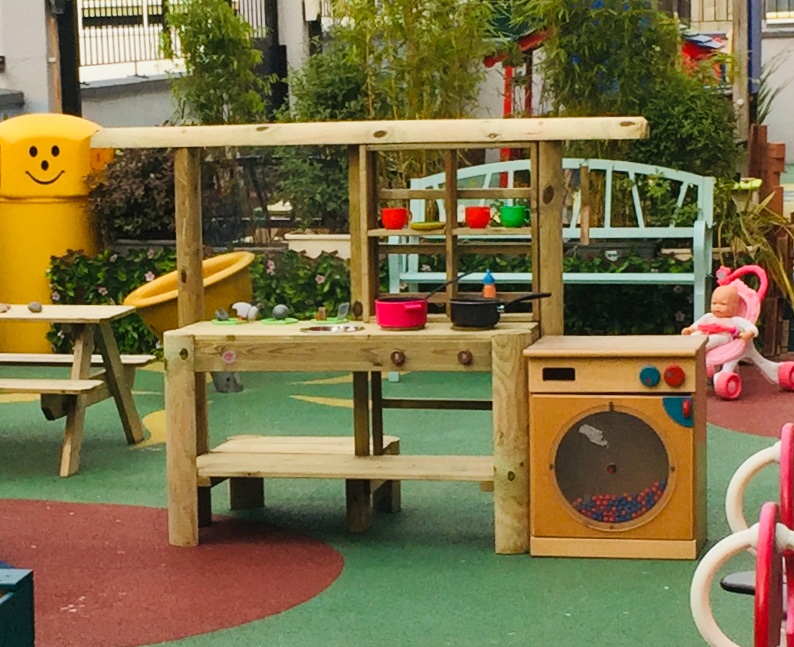 Centre Information
Please click on the links below to find out more information about our Centre. The food we provide for the children, the qualifications of our highly trained staff,  the funding we receive to provide our services and the policies in place to ensure the smooth running of our centre.
Our Team Of Experts
Our experienced Early Years Educators have a range of nationally recognised qualifications and are committed to partaking in continuous professional development. All our ECCE room leaders hold a B.A. Degree in Early Childhood Care & Education.
When planning learning experiences for our children we are guided by "Aistear" which is the Early Childhood Curriculum Framework for children from birth to six years in Ireland. Through four interconnected themes – Well-being, Identity & Belonging, Communicating and Exploring & Thinking – Aistear guides practitioners in providing enjoyable and challenging learning experiences so that all children can grow and develop as competent and confident learners within loving relationships with others.
Each week a short-term plan, based on the children's emerging interests, with a balance between child-led and adult initiated activities is displayed in our rooms.
Our staff carry out regular observations on the children in their care as well as completing a learning profile book. This book has observations, art work and pictures of the child in their daily activities in the service. These are shared with parents together with regular updates on the child's development and progress.
Askea CCC uses the Keyworker System. This is where each child in the service has a staff member in their room assigned to them. This person will be the contact person for parents if they have a concern or would just like a chat about their child's development.
Our service has a very diverse group of children from many different countries attending daily. The Early Years Educators encourage parents and families to come in and speak about their different cultures and countries of origin. This helps the children in their transition from home to school and gives them a sense of belonging.